'Sweeney Todd' by Stephen Sondheim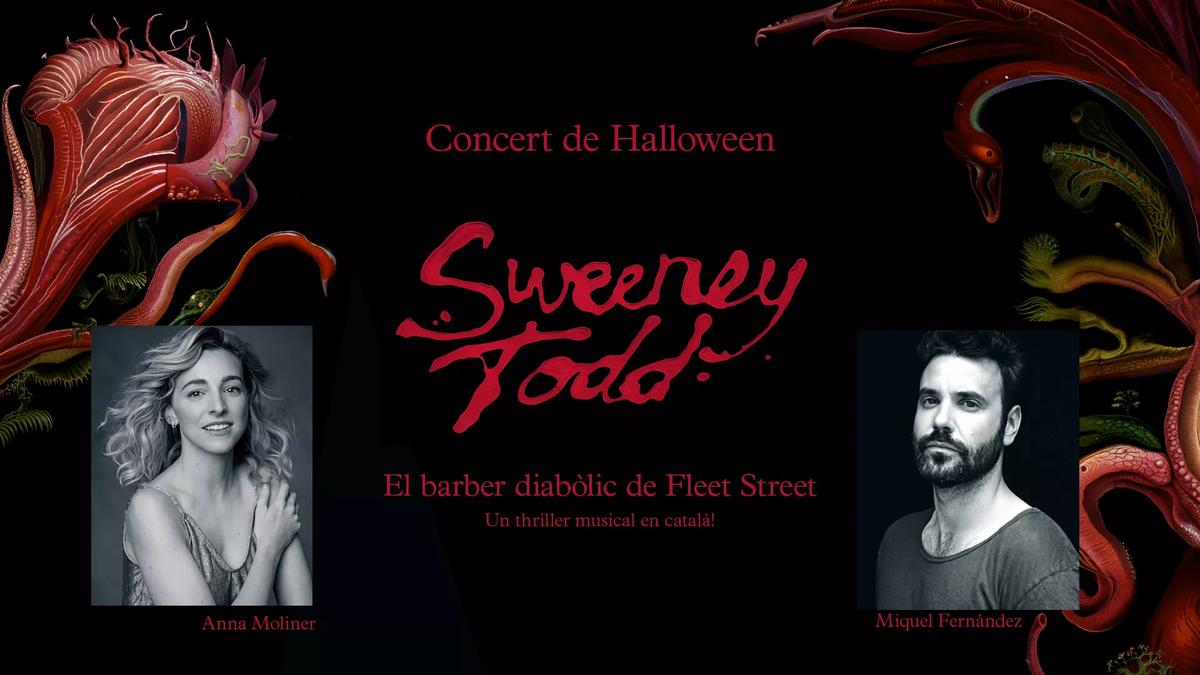 'Sweeney Todd' by Stephen Sondheim
Halloween concert
Performers
Miquel Fernández, Sweeney Tood
Anna Moliner, Mrs. Lovett
Ivan Labanda, Adolfo Pirelli
Eloi Gómez, Anthony Hope
Ana San Martín, Johanna
Jordi Vidal, Beadle Bamford
Maria Santallusia, captaire
Jan Gavilan, Tobias Ragg
Xavier Fernández, Jutge Turpin
Cor Jove de l'Orfeó Català (Pablo Larraz i Oriol Castanyer, directors)
Orquestra Camerata Penedès
Andreu Gallén, conductor
Jordi Prat i Coll, stage manager
Anna Llopart and David Pintó, assistants stage director
Albert Pasqual, costume and set design
Ferran Conangla, sound design
Imesde, light design
Program
Sweeney Todd. The demon barber of Fleet street 
In dramatized concert version
Stephen Sondheim, music and lyrics
Hugh Wheeler, book
Christopher Bond, adaptation
Originally directed on Broadway by Harold Prince
Jonathan Tunick, orchestrations
Catalan version by Roser Batalla and Roger Peña
Presented in agreement with Music Theater Internationala
Details
The Palau de la Música Catalana will bring together more than 100 artists in the first musical to be performed entirely in the modernist hall. It is the semi-staged version of Sweeney Todd, the Demon Barber of Fleet of Street, with the actors and singers Miquel Fernández and Anna Moliner in the main roles, and with the participation of Ivan Labanda, Eloi Gómez, Ana San Martín and Jordi Vidal, and others. The musical also features with Orquesta Camerata Penedès and Cor de Jove de l'Orfeó Català, with musical direction by Andreu Gallén and stage direction by Jordi Prat i Coll. A unique opportunity to enjoy Halloween night with a unique show in a privileged setting!
Premiered in 1979 on Broadway, the award-winning musical Sweeney Todd, the Demon Barber of Fleet of Street has been translated into several languages and performed around the world. Tim Burton's film adaptation, starring Johnny Depp and Helena Bonham Carter, in 2007, became a huge box office success and one of the most awarded and critically acclaimed titles.
Sweeney Todd is the story of Benjamin Barker, a man who has been unjustly imprisoned for fifteen years, manages to escape from prison and returns to London with the aim of taking revenge on Judge Turpin, the man who imprisoned him. Baker, as in Sweeney Todd, returns to his old barber shop upstairs from Mrs. Lovett. The razor is well sharpened and the meat pies of Mrs. Lovett more delicious than ever...