Classical Futures Europe at the Palau de la Música Catalana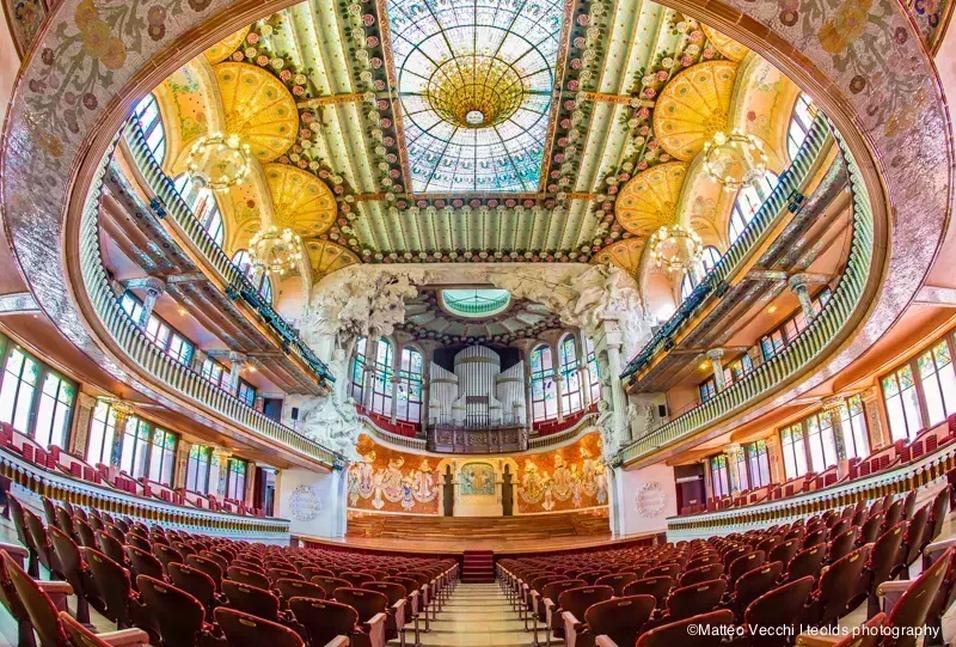 A window on European musical talent
Twenty-five years ago the Palau de la Música Catalana decided to start up a season of concerts to promote young talent. Entitled "El Primer Palau", it offered young musicians - Spanish or Spanish-based - who had recently graduated from music conservatories the chance to make their début in the Art Nouveau auditorium of the Palau de la Música Catalana. At that time the Palau de la Música Catalana was the only large concert auditorium in Barcelona; since its opening in 1908 the finest musicians of their time have performed there.
"El Primer Palau" saw the beginning of the artistic careers of some of the most important musicians to come out of Catalonia and Spain in the last twenty-five years, and has helped them and seen them grow, booking them regularly. Pianists with a long career, many of them excellent teachers at conservatories like Daniel Ligorio, José Menor, Enrique Bagaría, Lluís Rodríguez Salvà, Moisès Fernández Via or the paradigmatic cases of Javier Perianes, David Kadouch and Francesco Tristano, all made their début at the Palau as part of "El Primer Palau". The chamber ensembles Cuarteto Quiroga and Quartet Gerhard, cellists Arnau Tomàs (member of the Quartet Casals), Fernando Arias and Pau Codina, saxophone quartet Kebyart Ensemble, wind quintet Azahar Ensemble, organist Juan de la Rubia, singers Josep Ramon Olivé, Irene Mas, Mercedes Gancedo and many more, are just some of the musicians who have taken part in "El Primer Palau" over the years. A series of concerts where, moreover, excellence and talent are rewarded with the presentation of accolades to boost participants' careers even more, thanks to agreements with organisations like the radio broadcaster Catalunya Música, which recently offered one of the musicians the chance to record a professional demo, and the associations Juventudes Musicales de España and Joventuts Musicals de Catalunya, which offer one of the participants the chance to be part of the national programme of concerts organised by the two associations.
Since last year, "El Primer Palau" has extended its programme to musicians from or resident in the European Union. This decision was in line with its intention to open up to the aim of Classical Futures Europe, of international promotion of European talent, and also a natural consequence of the increasingly frequent international movement and training of musicians within Europe.
Like this, the Palau de la Música Catalana recognises three ways for young talent to access its concert programme: the "El Primer Palau" season, the ECHO Rising Stars season (as a member of the European Concert Hall Organisation since 2011) and a direct commitment to emerging talent, as can be seen in recent programmes: Benjamin Grosvenor, Thomas Dunford, the Jussen brothers, Shaghajegh Nosrati, Jakub Józef Orliński, Jan Lisiecki and many other current international names who the Palau de la Música Catalana has backed right from the start.
In its first year as a member of the Classical Futures Europe programme, the Palau de la Música Catalana has faced one of the most difficult years in its history, due to the effects of the global COVID-19 pandemic, which forced the closure of the venue from mid-March to the end of June, meaning that all its plans for those months had to be cancelled or postponed. Fortunately, the reopening of the venue in July 2020 allowed the Palau to resume its programme, with the intention of reactivating the music sector, encouraging audiences to return to concerts and providing work and activity for the musicians who had been without work for so long. Thus, the Goldmund Quartet, an ensemble that was part of ECHO Rising Stars in the 2019-2020 season, were finally able to make their début at the Palau de la Música Catalana on 13th July 2020 and they did so in the main auditorium, rather than in the chamber venue where the ECHO Rising Stars season is normally staged. These concerts had a maximum capacity of 30% in an atypical summer programme that saw the city of Barcelona turn green again, unusually empty of foreign visitors and populated only by its inhabitants.
In September 2020 the permitted capacity rose to 50%, and like this the Palau de la Música Catalana was able to assure a high percentage of its programme, seeking solutions for every contingency and trying to stage as many concerts as possible. Thus, the German pianist Schaghajegh Nosrati, who  made her very successful début in August 2020 2020, was invited back to replace the great Evgeni Koroliov performing the first book of The Well-Tempered Clavier by J. S. Bach. The concert was to take place in November 2020 but in the end, due to the temporary closure of the Palau in November, following Catalan government rules to contain the pandemic, it finally took place on 2nd February 2021.
Despite the global pandemic situation, the Palau de la Música Catalana has managed to present as many as seven projects within the Classical Futures Europe programme: the lutenist Thomas Dunford (who in recent seasons has appeared playing works by Bach for the lute); the clarinettist Magnus Holmander (ECHO Rising Stars 2019-2020); the Jussen brothers (who appeared on 8th February 2021 with great success following their début in 2019); the Goldmund Quartet (ECHO Rising Stars 2019-2020); the countertenor Jakub Józef Orliński (who appeared for the second time at the Palau on 11th January 2021); the pianist Schaghajegh Nosrati (who made her début at the Palau de la Música on 24th August 2020 and returned on 2nd February 2021) and finally the Catalan violinist Bernat Prat. Both Thomas Dunford and Magnus Holmander also took part in  parallel activities with students from the music conservatory of the Liceu and the Escola Superior de Música de Catalunya (ESMUC).
Bernat Prat is an example of how the Palau de la Música Catalana sets out to support young talent and help to continue and build up their professional career. Bernat Prat (b. 1992) made his début in the "El Primer Palau" season in October 2019, where he won a second prize in the competition section. His performance of the Partita no. 2 by J. S. Bach was splendid, revealing a high artistic standard and auguring a great future. The artistic management of the Palau de la Música Catalana invited him to be part of the production by the contemporary dance company Circa Contemporary Circus in January 2021 of "What Will Have Been" in which Bernat was to play music by Bach and Biber for solo violin live, while two dancers performed on the stage. The pandemic meant this production had to be cancelled as the company is Australian. When Giuliano Carmignola announced the cancellation of his performance of the three Partitas for solo violin by J. S. Bach in November 2020 in a context of closed frontiers and enormous difficulties in carrying on musical activities, the Palau de la Música Catalana saw an excellent opportunity to opt for young talent. Bernat Prat replaced Carmignola, performing Partitas no. 2 and 3 by J. S. Bach (the concert had to be postponed from 5th November to 14th December 2020 due to virus restrictions imposed by the Catalan government which forced the closure of concert venues that month) in the adverse but at the same time motivating circumstances of giving concerts when no other country in the world was doing so and treading the stage of the Palau de la Música Catalana solo once more, following his début a year before. It should be mentioned that Bernat Prat is a member of the Cosmos Quartet, an ensemble formed in Catalonia and first prize winner in the Irene Steels Wilsing Foundation Competition 2018 in Heidelberg, which also made its début in the Palau in summer 2020, returning to give a concert last January. Together with them the Palau is constructing a long-term project to support their talent.
Bernat Prat tells us about his début at the Palau as part of "El Primer Palau", and how his appearance in this competitive season helped him:
"I experienced my début with a mixture of lots of enthusiasm and nerves. I was aware that appearing solo in a venue like the Palau and doing it with music by Bach was no ordinary challenge, but at the same time I also felt very fortunate to have a chance like this, and the eagerness and enthusiasm in getting ready for it brought out the best in me. I have a bitter-sweet memory of it as at the time I didn't have enough experience with the work (Bach's Partita no. 2) or with the situation to really enjoy it to the full. The prize I was given helped build up my self-confidence. It was just the year after finishing my master's course in Basel, at a time when I had doubts about everything and it was very hard for me to make decisions. Winning an award made me see that I was not doing badly and that doubting is one of the keys to evolving. This experience also opened doors for me to other festivals and presented a different side of me to the quartet violinist.
With regard to the concert of 14th December 2020 he comments, "Getting an invitation like this was an enormous honour and pleasure. At such short notice I have to say it was not easy to take a decision, much less when it was a matter of replacing a violin legend like Giuliano Carmignola, but right from the start I realised it was an opportunity I could not afford to miss, something that would not come along twice. It was time to continue my journey with Bach's music for solo violin. Fortunately, during lockdown Bach's music was very much part of my day-to-day life and I studied it a lot. However, it is not the same playing at home as in the Palau, and in this respect it was more important to work on the mental and physical side than the musical one. Visualising the moment and playing the two Partitas one after another was what worried me the most in the days before the concert. The experience of returning to the Palau was more relaxed and I could see that time had passed and the works had become more a part of me, and this allowed me to feel freer on the stage. It was also nice to be able to give a concert at a time when venues were closed almost all over Europe. I really felt privileged and I have a great memory of that day."
As a permanent member of the Cosmos Quartet, he feels that, "Being able to combine two things like playing occasionally as a soloist and being part of a stable string quartet enriches me enormously both personally and professionally, but the best of all is that one discipline enriches the other and vice versa. Instrumental and technical solidity and striving for a good performance using the score and one's knowledge are the combination you need to become a good musical artist, and I think being part of a string quartet and having chances to play occasionally as a soloist  give you these things to let you go on growing and evolving."
Finally, Bernat considers himself "a first-hand witness of the Palau de la Música's support for young talent. Initiatives like "El Primer Palau", which now has 25 years of history behind it, and concerts like ECHO Rising Stars show that the Palau's commitment to young talent is real. I follow the Palau programme in detail and I must say that as well as big names there is always room for new generations, giving them a chance to show all the potential young artists have."