The Palau de la Música Catalana cleans and restores the stage's sculptural frame of the Concert Hall
may 20 2020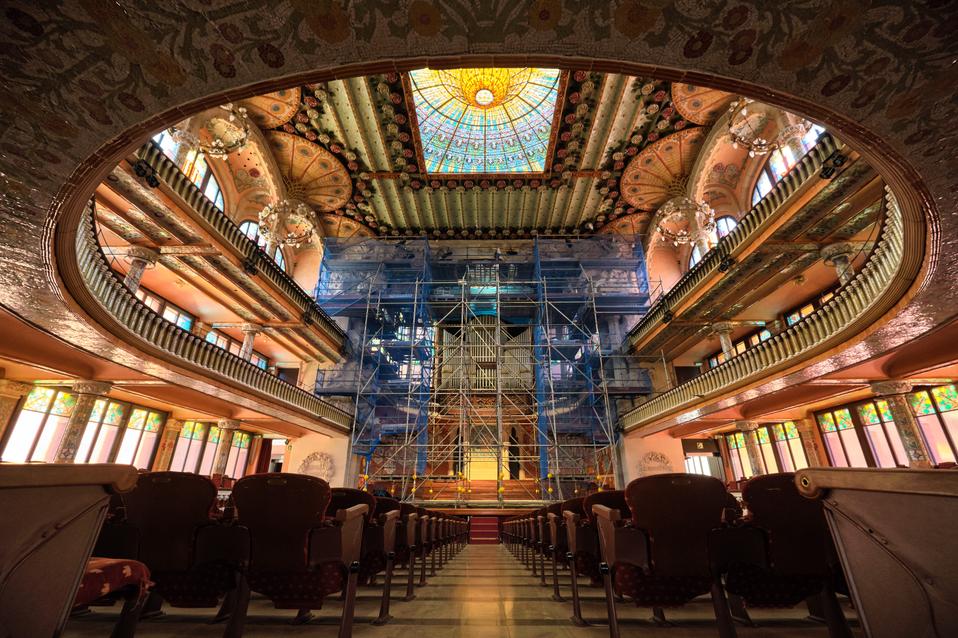 A 13 meters wide and 14 meters high scaffolding has been installed in the Concert Hall of the Palau de la Música Catalana for a few days, in order to clean and restore the sculptural ensemble of the stage frame. A stone sculptural group, the work of Dídac Masana Majó and Pau Gargallo, with the cavalcade of the valkyries and the bust of Beethoven on the right, representing the universal music legacy, and an allegory of a Catalan folk song and the bust of Anselm Clavé on the left, which represents popular music.  Together represent the Palau as a stage open to different musical genres.
This work was scheduled for the summer of 2021, but has been brought forward to May, taking advantage of the fact that the Palau has been closed since March 13. The aim of the work, which is scheduled to be completed in early June, is to return the sculptural group to its original state, which is an opportunity for the Palau to shine even brighter when it returns to activity. An activity that, if nothing prevents it, will resume in early July with guided tours. To minimize the risk of infection an application will be offered to the visitors, who from their own phone and with their own headphones, will be able to follow the tour with the explanations in a free itinerary.
As for the concerts, while waiting to know the regulations that will be dictated by the health authorities, the intention is to open one third of the hall's capacity with small format concerts from July, such as piano recitals or chamber music, details of which will be given later.
In addition to what the health authorities will announce, the Palau has already begun to organize the return to its activity with a series of extra measures that will make it as safe as possible for everyone.
We hope to meet again soon and share music and culture with the audience, so necessary in these difficult times.