TEMPUS: Culculture, nature and arts, on stage
Description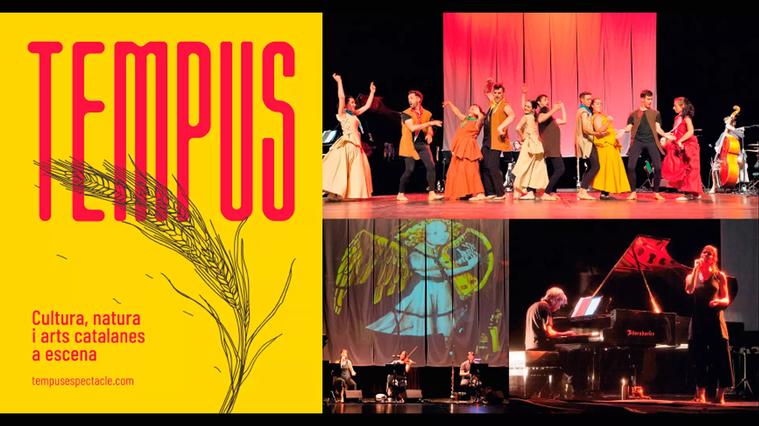 Performers
Gregori Ferrer, piano
Albert Mora, singer
Núria Cela, singer
Marina Sala, fiddle
Joan Sala, clarinet and tenor
Oriol Martí, contrabaix
Martí Hosta, double bass
Núria Toel, scenography
David Martínez, choreographer
Àlex Felip, lighting design
Esbart Sant Martí, dance
Gregori Ferrer, musical directon
Carles Farró i Sònia Sánchez, direction
Carles Farró, audiovisual direction
Verónica Acevedo, production direction
Elisabet Prandi AEC, photography direction
Carles Farró, mounting
Adrià Cillero, colorist
Diego Pedragosa, sounf efects
Marta González i Laura Marín, productioin assistants
Details
text TEMPUS
Tempus is a multidisciplinary show that combines live music, audiovisuals and dance with which we take a journey through the Catalan cultural heritage taking the seasons as the guiding thread.
The selected musical and dance repertoire will take us from prehistory to the present day through cultured and popular music. Together with the audiovisuals, it will allow us to delve into our artistic, natural and symbolic heritage, and enjoy a unique scenic proposal sensorially.
Come and immerse yourself in our culture!
ATTENTION
MINORS PROTOCOL: Los menores pueden entrar con cualquier edad siempre y cuando vayan acompañados de un adulto. Pagan entrada a partir de los 4 años.
REFUND PROTOCOL: no returns admited, but changes are allowed if requested 48 hours in advance.