Sant Andreu Jazz Band
From gospel to swing
Description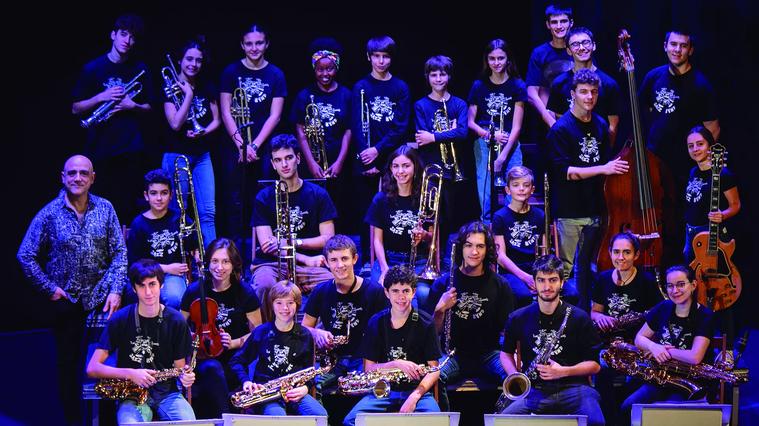 Performers
Joan Chamorro, conducting and double bass
Special guest: Andrea Motis, trumpet and voice
Alba Esteban, baritone saxophone, clarinet and voice
Marçal Perramon, tenor saxophone, clarinet
Joan Martí, alto saxophone, tenor, flute and voice
Joana Casanova, tenor saxophone, alto and voice
Elia Bastida, tenor saxophone, violin and voice
Sander Theuns, alto saxophone
Shanti Ming, alto saxophone
Koldo Munné, alto and tenor saxophone
Max Munné, trumpet
Gerard Peñaranda, trumpet
Elsa Armengou, trumpet
Martha Vives, trumpet
Alba Armengou, trumpet and voice
Hugo Vlach, trombone
Luc Martín, trombone
Claudia Rostey, trombone and voice
Max Tato, trombone and voice
Miquel Casanova, double bass
Pablo Ruiz and Arnau Juliá, drums
Carla Motis and Josep Traver, guitar
Joan Monné and Ignasi Terraza, piano
Details
Notice (06/11/2020): Regarding the postponement already communicated, the Sant Andreu Jazz Band concert at the 52 Voll-Damm Barcelona Jazz Festival will take place on December 18 at the Palau de la Música Catalana.
* Tickets already purchased will be valid for the new date. We request that, if possible, you keep your seats, thus guaranteeing the same location in the concert.
* Those people who cannot attend the new date may request a refund of the amount of the tickets by going to the channel where they were purchased within a maximum period of 14 days. If you bought them through TheProject channel, write to [email protected] indicating the full name and reference number of the purchase.