Marathon El Primer Palau
—Discovering young talents
Description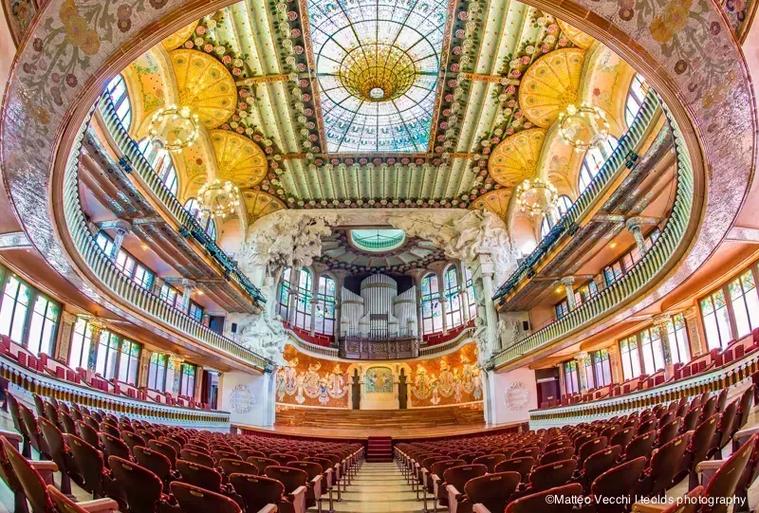 Performers
Quartet Atenea:
Gil Sisquella Oncins, violin
Jaume Angelés Fité, violin
Bernat Santacana Hervada, viola
Iago Domínguez Eiras, cello
Ariadna Chmelik, cello
Marta Cubas, accordion (Proposed by Juventudes Musicales de España)
Aida Gimeno, soprano
Alexis Hatch, violin
Daniel Molina, clarinet
Alexandra Nowakowski, soprano
Details
Primer Palau becomes a marathon! 7 live concerts, 1 ticket
A musical festival in the modernist venue to celebrate the El Primer Palau cycle-contest, a contest that has discovered some of the most outstanding musicians of recent generations and that is back for yet another edition, now with a renewed format!
A marathon of concerts from 11:30 a.m. to 6:00 p.m. with which the public will be able to attend the exhibition of talent and emotions of the debut of the future stars of the classic.
Enjoy a vibrant day at the Palau and discover artists and programs of various sensibilities. You can enter and exit to all the passes you want; and also, vote during the day for your favorite concert!
---
11:00  Doors open
11:30 Alexis Hatch Martínez, violin (Spain/EEUU)
Pieces of MOZART, SARASATE and WIENIAWSKI
12:10 Daniel Molina Díaz, clarinet (Spain)
Pieces of BROTONS and BASSI
12:50 Ariadna Chmelik Lluis, cello (Catalonia/Switzerland)
Pieces of GUIX, GRIEG and XOSTAKÓVITX    
13:30 Alexandra Nowakowski, soprano  (Poland/EEUU)
Pieces of SABATÉS, SZYMANOWSKI, GRANADOS and MONIUSZKO
14:10-16:00 Break
16:00 Marta Cubas Hondal, accordion (Spain)
Pieces of HOSOKAWA, SOLER, ZORN and ALBÉNIZ
16:40 Atenea Quartet: Gil Sisquella Oncins, violin; Jaume Angelés Fité, violin; Bernat Santacana Hervada, viola; Iago Domínguez Eiras, cello  (Catalonia/Galicia)
Pieces of DEBUSSY, PURCELL, GARCÍA-TOMÁS and BRITTEN
17:20 Aida Gimeno García, soprano (Spain)
Pieces of POULENC, DUPARC, MOMPOU and MONTSALVATGE
18:00 End of the contest