Karen Lugo & José Maldonado
Gran Gala Flamenco
Description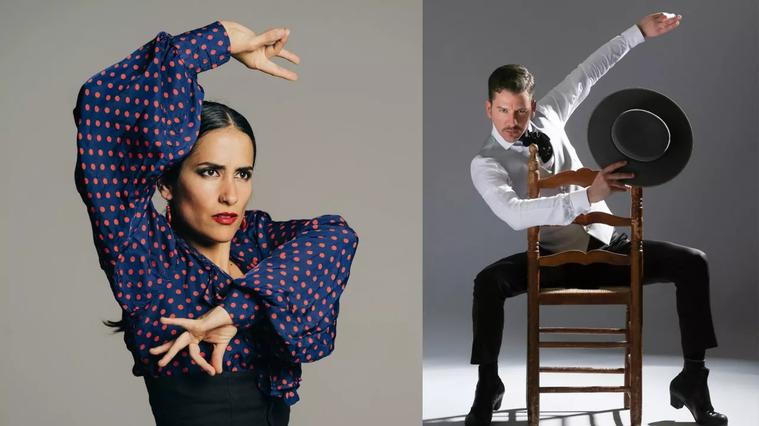 Performers
Músicos: Carlos Caro (violin), J. Sánchez (percussion).
Cantaores: Joaquín "El Duende", Raul Levia
Bailaores: Karen Lugo, José Maldonado, Eli Ayala, María José González
Musical Direction and Guitar: Juan Gómez "Chicuelo"
Details
In this show, the spectator will travel through the different flamenco's "palos" (rhythmic patterns such as "bulería", joyful and lively, "soleá" solemn and intense, "alegría" dynamic and jaunty, "tango", "guijara", "farruca" ...). Introducing a new generation of Catalonians artists, Gran Gran Gala Flamenco is the perfect association between heart and soul, music and dance, passion and rhythm.
KAREN LUGO
KAREN LUGO is a Mexican flamenco dancer who has a deep knowledge of and respect for the tradition while being curious and inventive. She has been participating alone in the season "Los Novissimos" from the XIV Jerez Festival, "Jóvenes Flamencos" in Madrid's Teatro Español, "Los Veranos del Corral" in Granada, "Flamencos y Mestizos" from the SGAE Foundation in Madrid's Sala Berlanga and in the city of Úbeda, in the Festival Flamenco Ibérica Contemporánea, the Flamenco Festival Cuidad de Jaén. As a choreographer, she received the award Flamenco dance First Prize from the International Festival of Almeria.
Under the direction of Javier Latorre, she performed in Carlos Saura's movie "Flamenco Flamenco" and in the show "El Duende y el Reloj" as Prima Ballerina. She also performs as a dancer, soloist, and choreographer in the shows "FLAMENCONAUTAS" Jerez Festival 2018 and "Lorca x Bach" Jerez Festival 2020 directed by Javier Latorre and produced by Shoji Kojima.
JOSÉ MALDONADO
José Maldonado is one of the emerging artists of the current Flamenco outlook. As a dancer and choreographer, he mixes tradition and progressive techniques.
He was born in Barcelona, where he started studying arts at an early age. He is graduated in Spanish dance and flamenco at the Professional Conservatory of Barcelona (Theater Institute).
He has been developing his professional career along with many famous artists and groups, performing as a soloist dancer or featured artist and going on tour around the world, through the most important theater and dance festivals.
– Best New Artist award at the Jerez Festival 2019
– Soloist choreographer award at the Spanish dance and Flamenco Contest at Madrid in 2013 for "Mojácar" choreography.
– Choreography first prize at the Spanish dance and Flamenco Contest at Madrid in 2015 for "Trigo Limpio" choreography.
– Audience award and Flamenco and Spanish dance award at the Castellón Dance Contest in 2002.
JUAN GÓMEZ "CHICUELO"
Juan Gómez "Chicuelo" Goya awarded for the best original song (bulería "No te puedo encontrar") is one of the most important guitar players of the current Flamenco outlook; twice awarded as best guitar soloist disc at the magazine Flamenco Hoy awards. "Tarantos" musical director awarded Premio Max for the best music.
---