J.S. Bach: The concerts for 1, 2, 3 and 4 pianos and orchestra
The Brandenburg Concert no. 3 - Orquestra Simfònica Camera Musicae
Description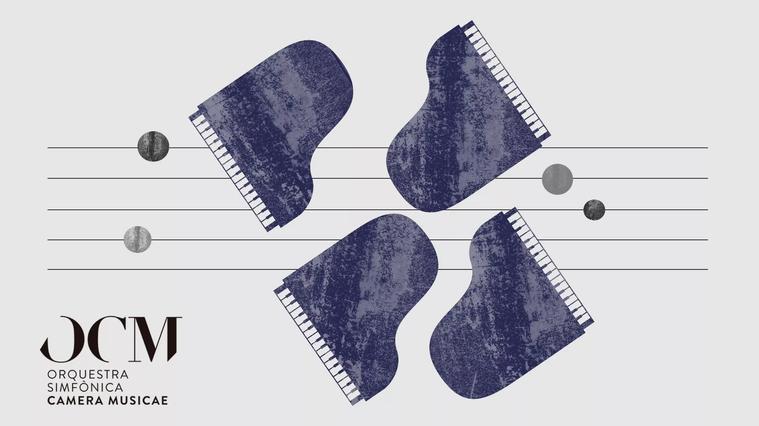 Performers
Sebastian Knauer, piano
Alba Ventura, piano
Albert Guinovart, piano
Marc Heredia, piano
Katia Michel, piano
Marta Puig, piano
Orquestra Simfònica Camera Musicae
Jordi Mora, conductor
Program
J. S. BACH: Brandenburg Concert no. 3 in G major, BWV 1048
J. S. BACH: Concerto for Piano and Orchestra in F minor, BWV 1056
J. S. BACH: Concert for piano and orchestra in D minor, BWV 1052
J. S. BACH: Concerto for 2 pianos and orchestra in C minor, BWV 1060
J. S. BACH: Concert for 3 pianos and orchestra in D minor, BWV 1063
J. S. BACH: Concerto for 4 pianos and orchestra in A minor, BWV 1065

Details
The Orquestra Simfònica Camera Musicae are pleased to present an extraordinary concert focusing on the figure of Bach with an unusual program and an unbelievable formation where we can see up to 4 grand pianos simultaneously on the stage of the Palau de la Música Catalana.
The spectators of this astonishing program, which has not not been played at the Palau de la Música since 2001, will be able to enjoy the wonderful concerts for 1, 2, 3 and 4 pianos and orchestra of J. S. Bach.
In this special program, conducted by the maestro Jordi Mora, we can hear the exceptional pianists Albert Guinovart, Alba Ventura, Sebastian Knauer, Marc Heredia, Katia Michel and Marta Puig gathered in a single concert.
Of the many compositions of this genre that Bach wrote, have been chosen the most renowned and featured concerts, which will allow the spectator to enjoy a unique and unforgettable evening.
As an opening for this unprecedented musical party, one of its brightest Brandenburg concerts will be played: the number 3 in Sol major.