Description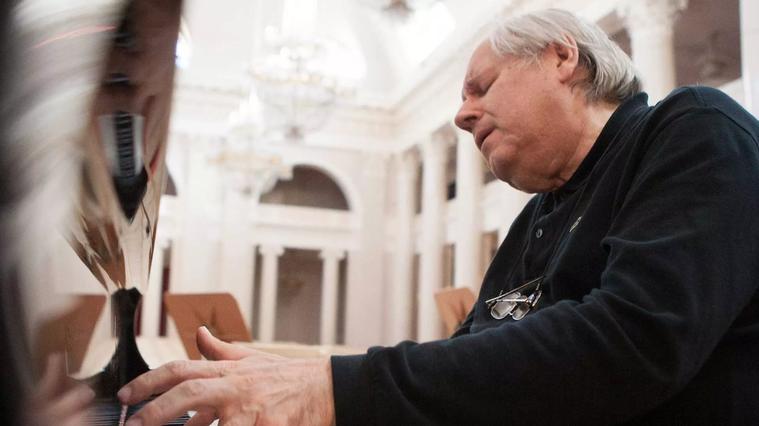 Performers
Grigory Sokolov, piano
Program
Primera part
H. Purcell: A Ground in Gamut en Sol major, Z. 645
H. Purcell: Suite en Sol menor, Z. 661
H. Purcell: Una nova melodia irlandesa (Lilliburlero), en Sol major, Z. 646
H. Purcell: Una nova melodia escocesa, en Sol major, Z. 655
H. Purcell: Melodia de trompeta en Do major, Z.T. 678, "the Cibell"*
H. Purcell: Suite núm. 2, en La menor, Z. 663
H. Purcell: Round 0, en Re menor, Z. T. 684
H. Purcell: Suite núm. 7, en Re menor, Z. 668
H. Purcell: Chacona en Sol menor, Z. T. 680
Segona part
W. A. Mozart: Sonata per a piano núm. 13, en Si bemoll major, K. 333/315c op. 7 núm. 2
W. A. Mozart: Adagio per a piano en Si menor, Kv. 540
*A Cibell, also called a cebell, is a musical piece in the form of a gavotte in bimetric time signature that is mainly heard in Baroque music. It owes its name to the chorus that praises the goddess Cybele in the work Atys by Jean Baptiste Lully. The later Cibelles were written for voice or for various instruments, such as trumpet or harpsichord.
Details
The artistic relationship that joins Russian pianist Grigory Sokolov with the Palau de la Música Catalana is one of the extraordinary love stories that flourish, on rare occasions, between an artist and a concert hall. 
---
In the half part, enjoy a gastronomic special pack!
We offer you the option of booking a table at the Palau Foyer to have a snack during the middle part of the concerts. For reservations between 1 and 6 people.
We offer you 12 gastronomic packs with several drink, snack and dessert options (entre 12 i 23 €).
Choose the one you like the most, make your reservation and you will have your snack ready during the intermission of the concert.