Faust, Queyras, Widmann & Aimard
—Berg, Ravel, Widmann, Carter and Messiaen
Description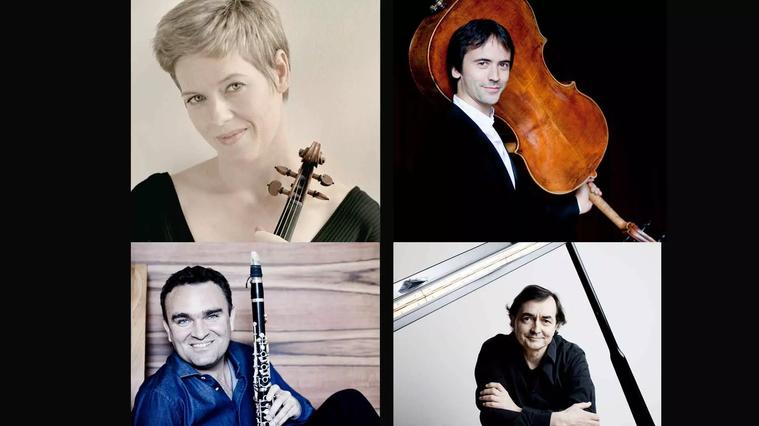 Performers
Isabelle Faust, violin
Jean-Guihen Queyras, cello
Jörg Widmann, clarinet
Pierre-Laurent Aimard, piano
Program
A. BERG: Four pieces for clarinet and piano, op. 5
M. RAVEL: Sonata for violin and cello
J. WIDMANN: Fantasy for solo clarinet 
E. CARTER: Epigrams for violin, cello and piano
O. MESSIAEN: Quartet for the end of times
Details
Isabelle Faust, Jean-Guihen Queyras, Jörg Widmann and Pierre-Laurent Aimard, virtuosic on their respective instruments and creating inspiration for the younger generations, feature in one of chamber music's most important events with a performance of the Quartet for the End of Time by Olivier Messiaen.
This inauguration of avant-garde music occurred in a Görlitz prison with the premiere of Messiaen's Quartet for the end of Time in front of a few hundred inmates who, like him, had been held by the Nazi regime. The work was composed for an unusual quartet combination -clarinet, violin, cello and piano- under the protection of a regime official, who provided the werewithal and the space, in addition to the necessary concentration and time for Messiaen to devote himself fully to the work. Once the Quartet was finished, he wrote in the score the inscription "there shall be no more time", a phrase that would extend over all his musical compositions.
A genuine dream team at the Palau de la Música Catalana.
Special offer
Audio guide tour (6.30 pm) + Concert (8 pm)
Enjoy a tour to discover the history and construction of the only modernist World Heritage Hall by UNESCO (6.30 pm), and a concert (8 pm)
Attention: you must bring your own headphones for the audio guide
Special price of € 40.