Description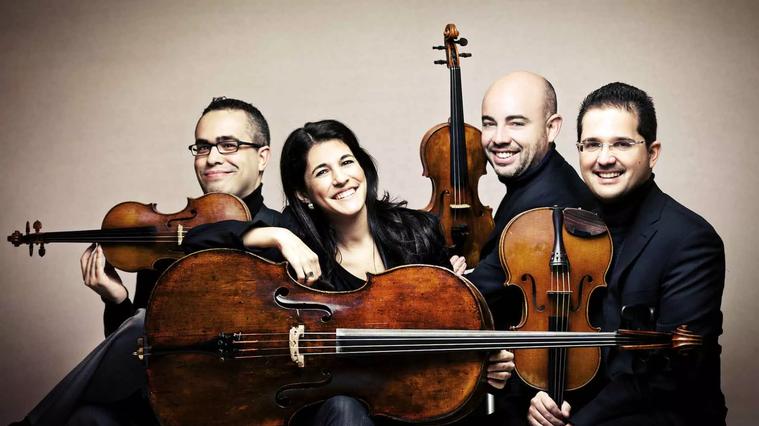 Performers
Cuarteto Quiroga
Aitor Hevia, violin I
Cibrán Sierra, violin II
Josep Puchades, viola
Helena Poggio, cello
Program
G. KURTÁG: Officium breve
T. L. DE VICTORIA: Officium defunctorum (arrangement fragments)
C. DE MORALES: Officium defunctorum (arrangement fragments )
L. VAN BEETHOVEN: Quartet núm. 15, en La menor, op. 132
Details
The Quiroga Quartet, 2018 National Music Award winner, is considered one of the most unique and active groups on the international circuit, acclaimed by critics and audiences thanks to its strong personality and bold and invigorating performances.
This season, under the title "Officium", the Quiroga Quartet draws us into the solemnity of the Liturgy for the Dead from different eras: the Officium Defunctorum of the Renaissance, its contemporary translation with Kurtág, and one of the most dramatic and emotional pieces of Beethoven's latter works, the string Quartet No. 15 in A minor, op. 132.
Tomás Luis de Victoria and Cristóbal de Morales, the most important and advanced composers of the 16th century, together with Francisco Guerrero, composed Officium Defunctorum. These polyphonic compositions, now with arrangements for string quartet, evoke an astonishing solemnity, mysticism, despair and drama, and are considered authentic precursors of the Baroque. Specifically, the Officium Defunctorum of Victoria was composed in memory of Mary of Austria and Portugal. The contemporary manisfestation is provided by György Kurtág and his Officium Breve in memoriam Andreae Szervánszky.
The combination of Baroque masterpieces and contemporary music illustrates the harmony between music composed five hundred years ago and that of today.
---