Concierto de Aranjuez by Rodrigo
Description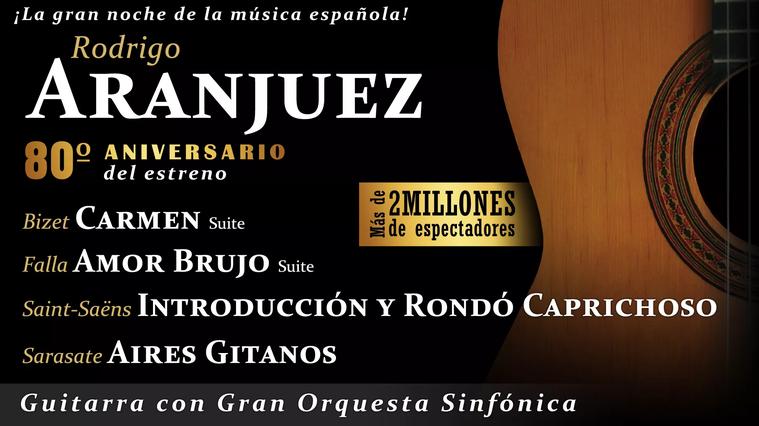 Program
RODRIGO: Concierto de Aranjuez
BIZET: Carmen
FALLA: El amor brujo
SAINT-SAËNS: Introduction et rondo capriccioso 
SARASATE: Gypsy Airs
Details
The Great Spanish Guitar Night leads you into the heart of Iberia. In music inspired by tradition and suffused with lyrical melody, the lustrous tone and rhythmic energy of the guitar capture the sounds and sensuality of Spain in a way that no other instrument can.
At the heart of the programme is one of the world's most popular concertos: Rodrigo's Concierto de Aranjuez, a creative fusion of folksong influences and imaginative orchestration. The virtuoso performance captures both the work's lyrical themes and its lively dance rhythms, conjuring visions of the gardens of Aranjuez and the warmth of the Andalucian sun.
With Bizet's Carmen suite, De Falla's El Amor Brujo, Saint-Saëns´ Introduction and Rondo Capriccioso and Sarasate´s Gypsy Airs completing the programme, this is a concert that invokes the spirit and colour of Spain through some of its most beguiling music.