Choral workshops
Open Day 2019
Description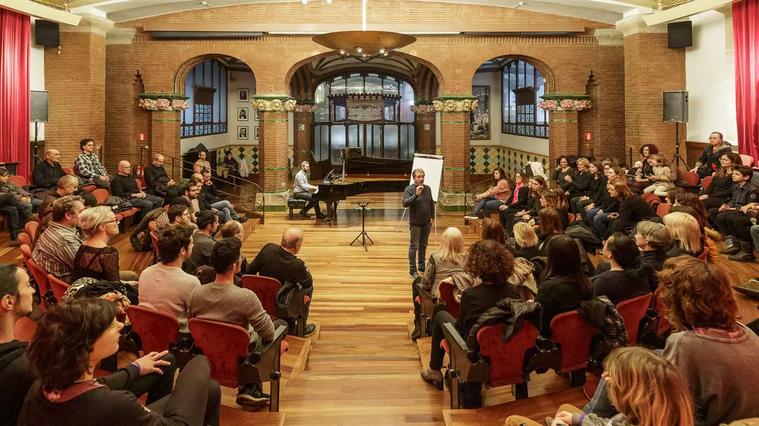 Details
Have you ever imagined yourself singing on stage at the Palau? Would you dare to do it in front of an enthusiastic audience?
There will be 4 choral singing workshops in the Orfeó Català's Rehearsal Hall (Sala d'Assaig), which will be led by Mariona Fernàndez and Alba Millàn, choir directors of the Clavé XXI Project, and the pianist Anna Niebla and Laia Armengol.
Participants will have the chance to rehearse various pieces before performing them in the Concert Hall for the visiting public.
The duration of the workshop is 50 minutes; The performance will last approximately 10-15 minutes.
Participation after 6 years. Children must be accompanied by an adult who also participates in the workshop.
Once the performance has finished, you can visit the Palau with the same ticket.
About the Clavé XXI Project
The entrance of Open Day will go entirely to the Clavé XXI Social Project
The Fundació Orfeó Català-Palau de la Música Catalana promotes the Clavé XXI project, a social and educational initiative that, starting with coral practice, aims to promote the social inclusion of children and young people.
The Social and Educational Project, Clavé XXI, already has 83 choirs, with children and young people from social organizations and children from elementary schools, mostly from the Ciutat Vella District, from other neighborhoods in the city and also of other populations of Catalonia that involve more than 1,900 singers.
Performance at the Concert Hall