Charity concert: Beethoven's Missa solemnis & Sephardic songs
Berkshire Choral International, Orquestra Simfònica del Vallès, Saul Zaks
Description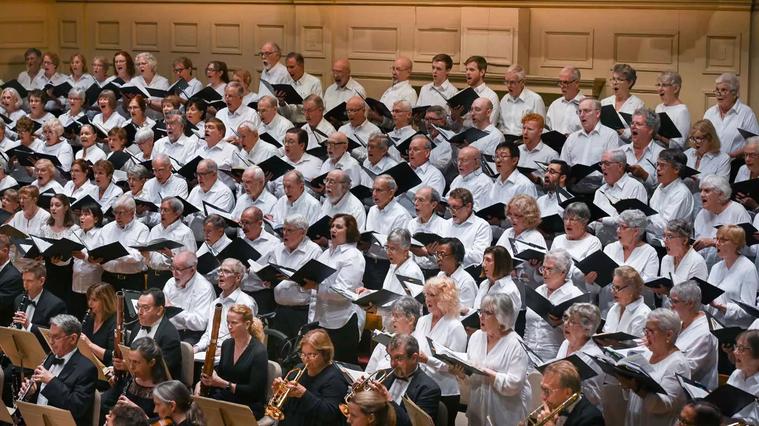 Performers
Maria Hinojosa, soprano 
Carol Garcia, mezzo 
Jorge Juan Morata, tenor  
Pau Bordas, bass 
Lixsania Fernández, voice & viola da gamba
George Mihalache, cymbalon
Óscar Martin, piano
Berkshire Choral International
Orquestra Simfònica del Vallès
Saul Zaks, conductor
Program
L. van Beethoven: Missa solemnis in D major, Op. 123
Three Sephardic songs:
Y. Braun (arr. J. Jacobson): Nani, Nani
Traditional Sephardic romance (arr. Y. Braun): Morenica
Y. Braun (arr. J. Jacobson): Por Que Llorax
Details
This concert is part of the Beethoven 250 social project.
The concert revenue goes to the Hospital Sant Joan de Déu.

Taking into consideration the celebration of the 250th anniversary of the birth of Ludwig Van Beethoven in 2019, the Orquestra Simfònica del Vallès (OSV) in collaboration with the Otorhinolaryngology Unit and the Cochlear Implant Center of the Hospital Sant Joan de Déu, the Federation of Catalan Associations of parents of deaf people (ACPPS) and the GAES solidaria foundation has launched a social project, called Beethoven 250, which relates to music and health, and which aims to visualize people who, like the great L. van Beethoven, they suffer from hearing impairment today. Can we do something for them? What we want is to create unique experiences through music for this group, and also make them visible, sensitizing society and explaining what their needs and potential are.
Because, like poetry, such as art, literature or philosophy, music is not only for the person who plays it, but also the person who really needs it.
---
Berkshire Choral International is the premier international educational institution dedicated to enhancing the skills of choral singers, while extending the knowledge and appreciation of choral singing and its tradition to singers and audiences. Over the past 38 years, BCI has inspired almost 9000 singers through our week-long choral music programs under the batons of dozens of the world's great conductors in prestigious venues throughout the U.S. and Europe. With a commitment to encouraging life-long participation in choral music opportunities, BCI is an inclusive home for people who love to sing.
L'Orquestra Simfònica del Vallès (OSV) has been taking music to people's hearts since 1987. We were born in the heart of the Associació d'Amics de l'Opera of Sabadell, but only one year later we became a private company,   in which musicians and management team were employees but als0 shareholders, a unique and very singular case of a private orchestra in Spain.  We have a season of symphonic concerts in The Palau de la Música Catalana in Barcelona since 1995, and we play around 110 symphonic concerts in more than 25 cities each season.

Emotions are our forte, so we try to take them to our audience encouraging them to participate,  making innovative concerts and keeping our compromise with quality and with our community.

Saul Zaks (Buenos Aires, 1961) is a Grammy Award Nominee conductor living in Denmark. He studied at The Jerusalem Rubin Academy of Music & Dance and at The Royal Danish Academy of Music Aarhus. He is specialized in the music from Latin America and has performed and recorded with, amongst others, the composer Ariel Ramirez, the singer Mercedes Sosa, the composer & pianist Pablo Ziegler and the bandoneón players Daniel Binelli, Pablo Mainetti, César Stroscio and Rodolfo Marcelo Zanetti. Saul Zaks has also gained a nomination for the Danish Grammy Award 2006 - Best Classical Album - together with the Danish National Choir & Symphony Orchestra for recordings of "Choral Symphony & Requiem" by Asger Hamerik.

Today Saul Zaks is the Artistic Director & Conductor of the Misatango Festival (www.misatango.com), the Summa Cum Laude International Youth Music Festival (www.sclfestival.org) and the Classical Music Summer Festival in Vienna (http://www.concerts-austria.com/summer-festival-vienna).