Camerata ESMUC Quartet Casals and Quartet Atenea
Season Grans Conjunts de l'ESMUC
Description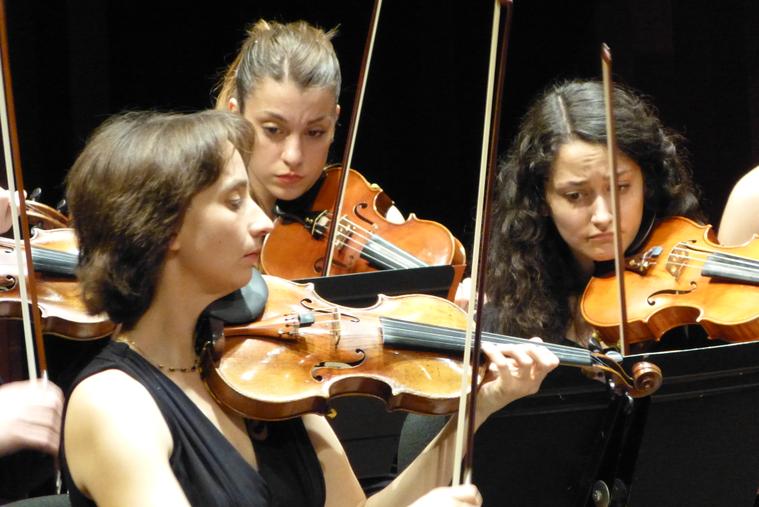 Performers
Camerata ESMUC Quartet Casals
Quartet Atenea
Program
Quartet Atenea
W. A. Mozart: Quartet núm. 17 "The hunting" 
Camerata ESMUC Quartet Casals
W. A. Mozart: Symphony núm. 41 "Jupiter" KV551 
Details
The Camerata ESMUC Quartet Casals began its career in 2009 with the desire to become a stable string formation within the Escola Superior de Música de Catalunya. The ensemble gathers students from the final years of the Classical and Contemporary Music Interpretation degree, together with the members of the Casals Quartet, who act as first speakers.

This string orchestra, led by Vera Martínez, Abel Tomàs, Jonathan Brown and Arnau Tomàs, and usually without the figure of a conductor, is characterized by complicity, technical depth in detail and interpretive expressiveness.

The Atenea Quartet was formed in 2019 at ESMUC to explore and recover the world of the string quartet repertoire. Its members have received training, mainly from the members of the Quartet Casals and from musicians such as Heinz Holliger (Swiss Chamber Academy) and Donald Weilerstein (International Chamber Music Campus, in Germany). The quartet is currently pursuing its musical development at the Hochschule für Musik (Basel, Switzerland), where three of its members are currently pursuing official master's programs.