Aura Fundació
25th Anniversary Concert
Description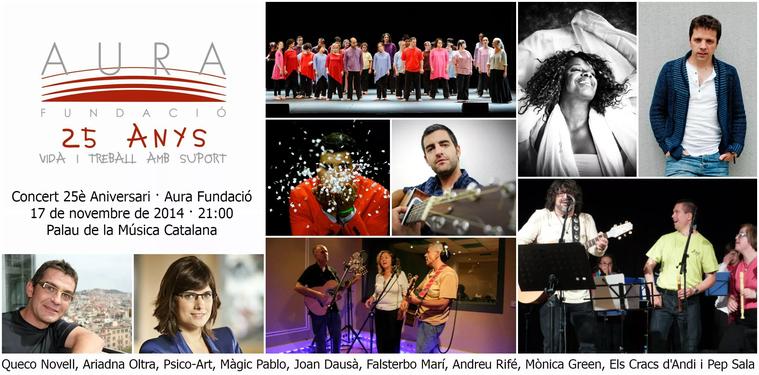 Details
Aura Foundation celebrates its 25th anniversary with a concert at the Palau de la Música Catalana.
In this event there will be a special recognition to companies  which will be followed by a concert performed by renowned volunteer artists as: Pep Sala, Monica Green, Joan Dausà, Màgic Pablo, Andreu Rife, Els Cracs d'Andi, Psico-Art, Falsterbo Marí and presented by Queco Novell and Ariadna Oltra.
The Aura Project, the first program for Supported Employment in Spain, the project aims to incorporate persons with disabilities in the labor market, mostly with Down Syndrome. Since it started in 1989,more than 200 young people work in ordinary companies and 80% had a permanent contract.
We hope you can assist to support our future projects and helps to spread the Aura Project  as standardized model, designed for people with special needs.
See you there!